To add an additional authorized email address for a contact on your account, please follow the instructions below:
1. Start by logging in to your portal account.  On the portal home page, you should see a link in the upper right hand corner to login.  Click on this link. If you are already logged in, it will display your account name.  If you are already logged in, proceed to step 3.

2. After clicking login, a pop-up window will appear asking for you to enter your information to sign in.  Please enter your email address and password and click submit.  Please note that the email address you use to login needs to be the email address on file for your account.  If you do not remember the password for your account, you can use the forgot your password link to have the system send you an email to reset your password.

3.  After logging in, you will be taken to the portal dashboard.  Along the left side, a menu with different account management options will be shown.  Depending on the services established on your account, the exact number of options and what specific options appear may differ slightly from the image below.  However, all accounts will have a section titled "Account" with an option underneath it for "Manage Contacts".  Click on this option.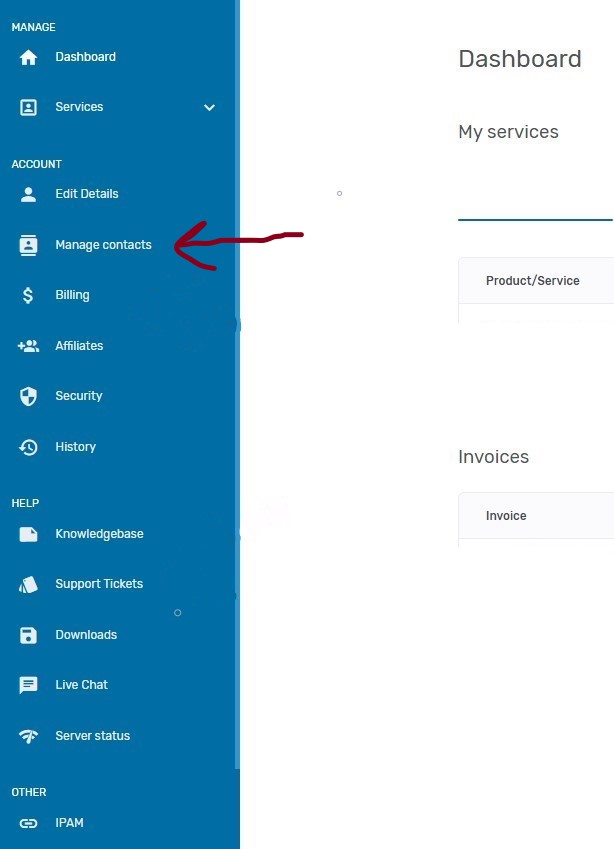 4.  After clicking on manage contacts, you will be taken to a screen like that shown below that will list all the existing authorized contacts on your account.  Over to the right will be a button for "Add new contact".

5.  You will be taken to a screen like that shown below that will allow you to submit the additional contacts details.  Below the submit button, there will be a large number of checkbox fields that are used to delegate what functions that the contact should be allowed to perform for the account.  The checkboxes that are selected determine what the contact will be able to see and do in our online portal, what automated emails they will receive from our system, what information can be disclosed to a the contact by our staff via email or phone, and what requests/account actions will be accepted by our staff from the account contact whther it be via email or by phone (note, company policies do require certain account related requests be submitted in writing).  After all fields have been completed and the proper contact permissions configured, click on submit to add the new contact to your account.