To Open a Support Ticket, please follow the instructions below:
1. If you have an existing account on our new portal system, we recommend that you login to your portal account before opening a ticket.  This ensures that your ticket is properly associated with your account so that it is accessible from your ticket history in the future.  If you do not have a portal account, please skip to step 4 below.  To login to your portal account, on the portal home page, you should see a link in the upper right hand corner to login.  Click on this link. If you are already logged in, it will display your account name.  If you are already logged in, proceed to step 3.

2. After clicking login, a pop-up window will appear asking for you to enter your information to sign in.  Please enter your email address and password and click submit.  Please note that the email address you use to login needs to be the email address on file for your account.  If you do not remember the password for your account, you can use the forgot your password link to have the system send you an email to reset your password.

3.  After logging in, you will be taken to the portal dashboard.  Along the left side, a menu with different account management options will be shown.  Depending on the services established on your account, the enter number of options and what specific options appear may differ slightly from the image below.  However, all accounts will have a section titled "Help" with an option underneath it for "Support Tickets".  Click on the Support Tickets link to go to a page that will allow you to review your ticket history and open a new ticket.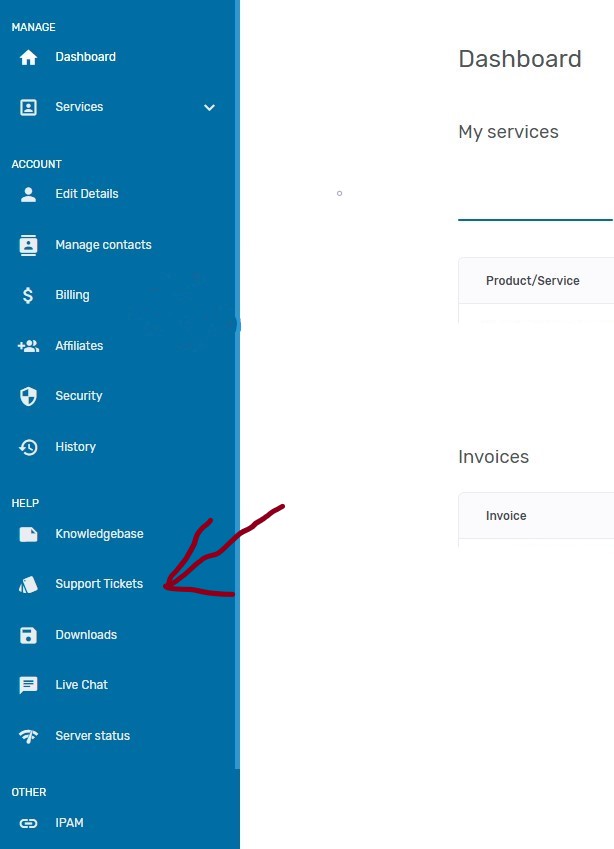 4.